It's never a good idea to go and place a new boat in the wire and head off into the blue yonder and not expect problems. So to keep things simple I arranged a couple of mates to help and dropped the Nereus into the North Arm of the Port River.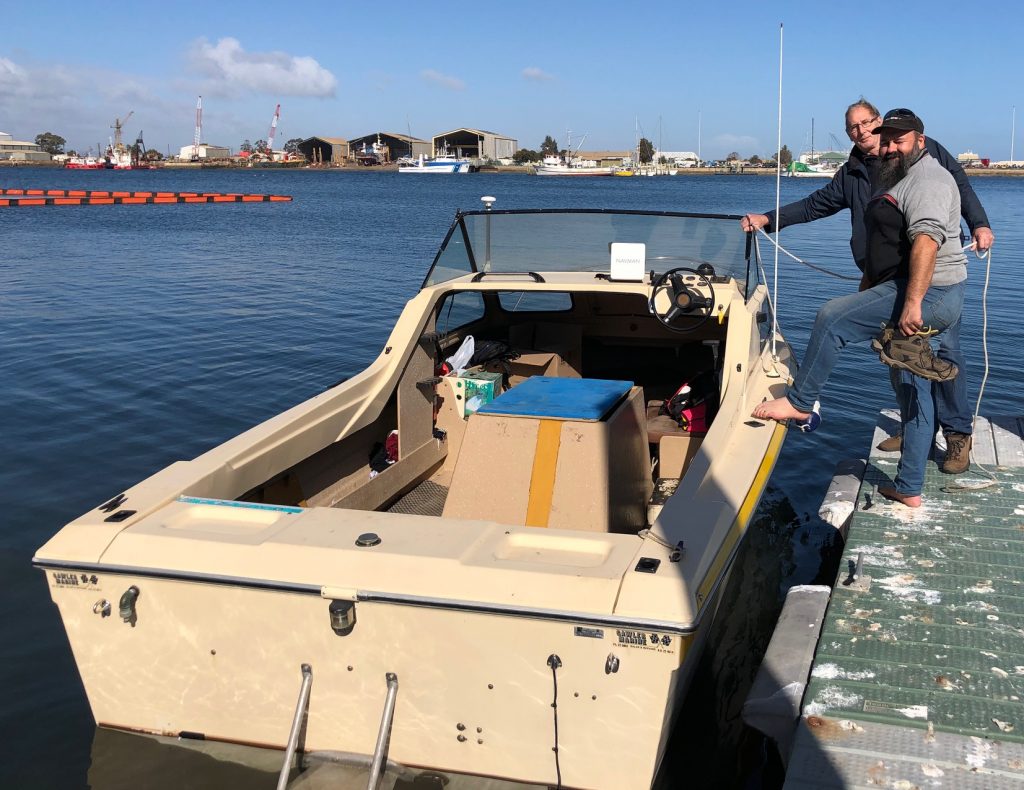 So far so good, it floats ! You'll have to excuse the state of the pontoon, the local Pelicans have made it their preferred home during the Winter. Once in the water the obligatory "is water coming in" checks were done, it certainly did not have to go back on the trailer.
There was nothing left but to go for it and take things easy. So while cruising slowly towards the Port River the steering and gearbox (ie reverse) were checked, along with lights, bilge pump and the fish finder. Here's a video of us just pulling away from the pontoon in the obligatory 4 knot zone coming out of the North Arm,.
Once clear of the North Arm we could then head towards Outer Harbour with a bit more power on keeping within the 7 knot limit. During this time we were watching the temperature of the engine and making sure things were going as planned.
Eventually however we were able to open the throttle and put the old girl up onto the plane.
Of course not everything goes to plan and the Log gland decided to spring a leak. It was certainly letting in a reasonable amount of water. A little more grease forced into the gland helped slow things down, but it will certainly need to have the two seals changed when I can find the time to pull it apart.
On the way back up river we managed a couple of high speed runs at wide open throttle (WOT). It was only then we found that the heat exchanger was not quite keeping up and the engine temp started to rise towards 100 degrees Celsius. Simply lifting the throttle and slowing down was enough to drop the temp back to normal. So this will certainly require some further investigation.
Getting out on the water in any boat is a great way to spend an afternoon even better when you can share it with a couple of friends. The trip was certainly successful with only minor issues found and nothing that resulted in us being towed home. We certainly can't ask for more than that.
At some point I'll also either capture a video or some photo's of putting this boat on the trailer. There is a unique catch on the bow that allows the boat to be driven on and caught without having to get out of the boat. The first time we put her back on I was a little preoccupied with not hitting anything so didn't capture anything. Next time.