As part of the final push to get my Hilux past her impending Road Worthy I spent quite a bit of time dealing with the electrical's.   I hate working on automotive wiring at the best of times so to make my job easier I remove the centre console and seats to give me room to manoeuvre.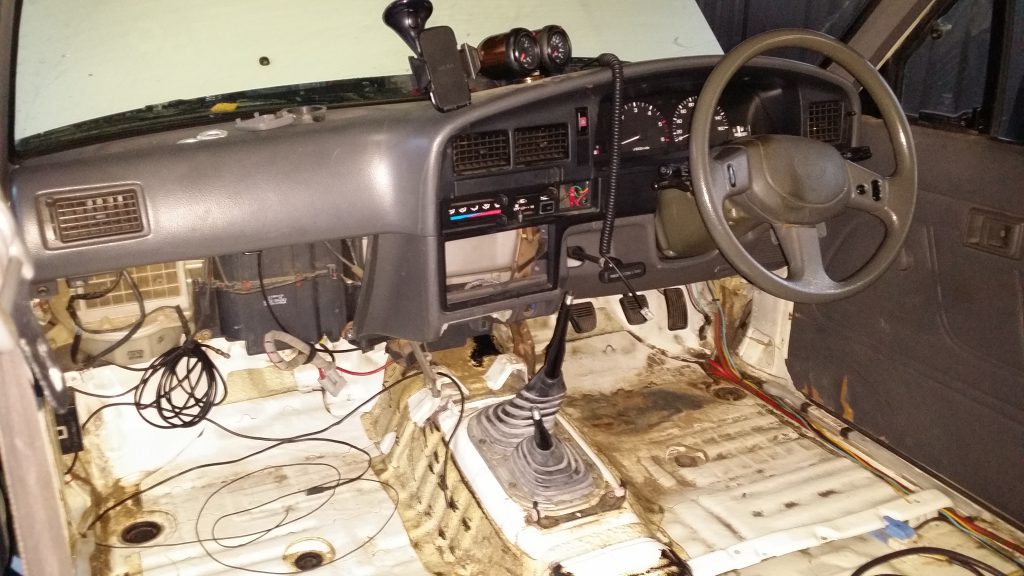 After pulling out the seats I found there was a heap of dirt and muck that had collected under the floor mat, along with evidence of a water leak from the front windscreen in both foot wells.   While I was under the floor mat I also took the opportunity to remove unused wiring from different radio experiments, that had accumulated over the years.  Cleaning up the floor pan certainly took a while.
Once the floor pan was clean I was able to tackle the last of the wiring jobs;
Get the high beam indicator lamp in the instrument cluster working
Get the washer bottle pump working again
Replace the second hand combination switch on the steering wheel (again), turns out it had a fault I'd not spotted previously when flashing the high beams with the headlights OFF
Now as you'd expect pulling an old car apart will quickly result in broken plastic clips.  I was a little surprised when the cowling that covers the steering wheel column came part in my hands, it had gone brittle.  Thankfully a suitable replacement it was reasonably priced at the local wrecker.  While I was at the wrecker I also took the opportunity to pick up all those little plastic cover pieces that you loose over the years.
So after the wiring was done it was time to reassemble the interior and put this old girl back together.