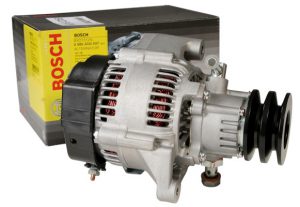 I don't know why but Hilux Alternators don't seem to last long.  I've now had four Asian made OEM aftermarket alternators fitted to my Hilux over the past 7-8 years.  They last just longer than the statutory warranty period and then fail.
I replaced the last alternator in Jan 2015 and here we are 18 months later (~36,000km) and the OEM alternator I used has blown an internal seal within the vaccum pump which has allowed engine oil to penetrate the housing.  Not to mention drop oil on the dump pipe and ground, I've spent way too much to have this engine leaking oil.
I did in fact notice last week that the vaccum assisted power brakes were a little "weak" in the mornings, made a mental note to investigate on the weekend.  Friday night after a longer than usual drive to St Kilda in Adeliade, well I could smell burnt oil and a new "awful" whining sound emanating from under the bonnet.  Damn there goes another one.
Anyway after a serious amount of google foo looking for any replacement alternator that wasn't from an Asian OEM supplier I settled on a a Bosch replacement.  Turns out that they are infact made in Asia, but I trust that German quality control will give me a better outcome.
I purchased the bosch unit from a local auto supplier that was having a 20% off sale on the day, which in fact pushed the price below trade.   For the later model Hilux's in the LN106 series where the vac pump is on the front of the alternator and not the rear, it's hard to find the part number of the unit with the pump on the front.  So if your looking for one it's the BXD1312, it took the young assistant that served me two goes to get the right unit we resorted to looking on the physical shelf when the computer system was leading us a stray.